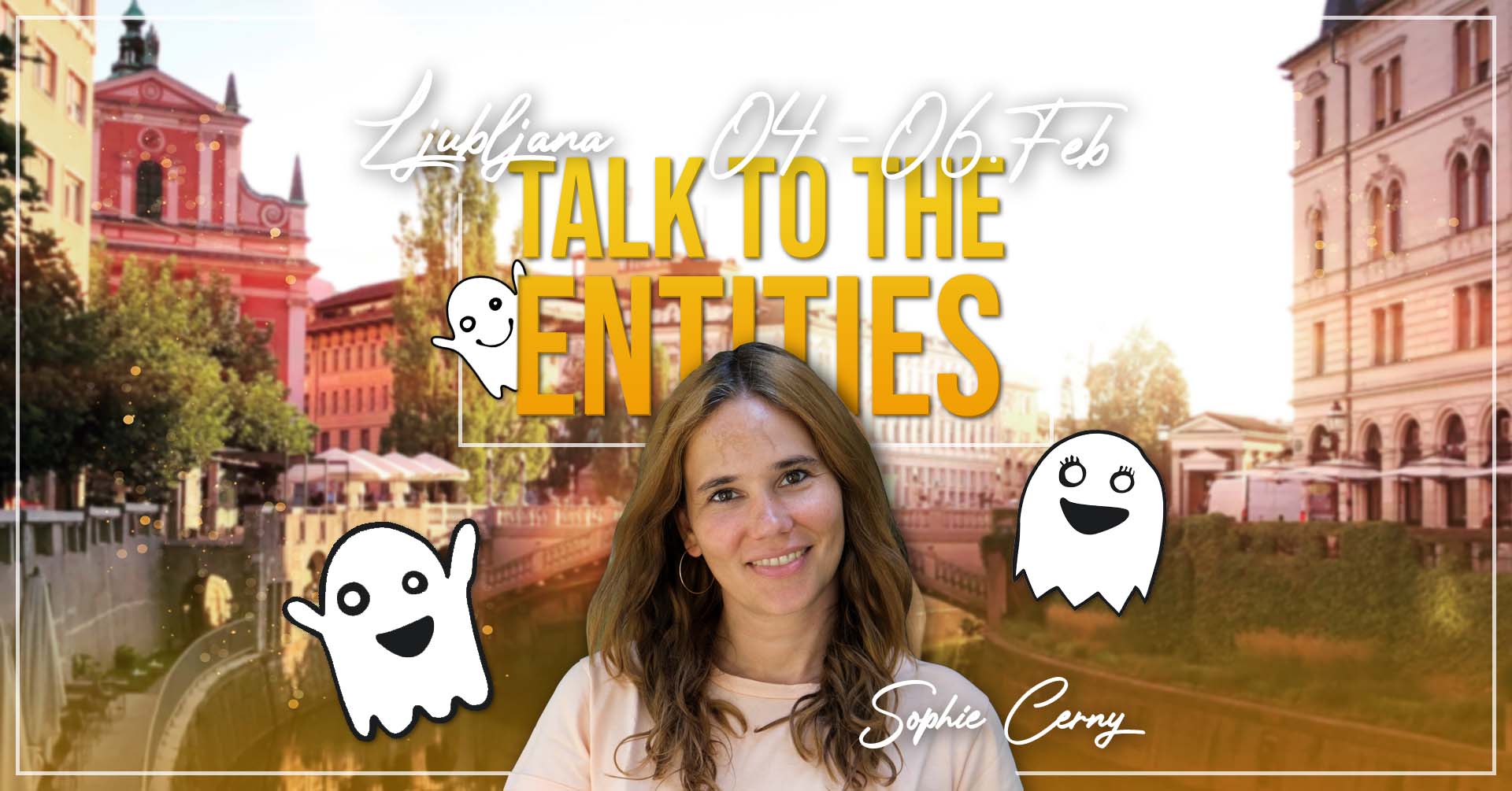 Talk To The Entities – Beginning with Sophie Cerny in Ljubljana, Slovenia
This class can be attended LIVE or ONLINE and will be simultaneously translated from English in Slovenian. ********************************************************************
SLOVENŠČINO
Oprostite, kako prosim!? Je to seminar o duhovih?
Tako je, govorili bomo o entitetah – dušah umrlih, breztelesnih bitjih, ujetih energijah, kadilskih entitetah, pivskih entitetah, svetlobnih bitjih, angelih, spiritualnem svetu in celem kraljestvu entitet, ki nas konstantno obkroža, pa si tega velikokrat ne priznavamo.
👻 Kaj, če bi si priznali, da so entitete vse okoli vas in je to, da jih zaznavate, nekaj povsem naravnega? Kaj se lahko spremeni v vašem življenju in česa se lahko osvobodite, če si to priznate?
👻 Bi se želeli naučiti, kako se spoprijeti in sodelovati z entitetami in energijami, katerih se zavedate ali bi se raje pretvarjali, da se jih ne zavedate?
👻 Ali bi si želeli premagati vse strahove in upor, ki ga imate v povezavi z entitetami?
👻 Kaj če se lahko vsak nauči čiščenja entitet, komunikacije z njimi in celo sodelovanja?
👉 Kaj, če je vaše zavedanje entitet vaša moč in darilo?
👉 Pridružite se na začetni delavnici Pogovarjajte se z entitetami, na kateri se boste odkrili svoje zaznavanje in zavedanje, ki vam lahko olajša življenje na vseh področjih.
👉 Pridružite se in pridobite popolnoma nov pogled na spiritualni svet.
👉 Z orodji (meditacija, čistilni izreki, procesi, vprašanja, itd.), ki jih boste dobili na tej delavnici, boste dobili še več jasnosti o spiritualnem svetu in na ta način se boste osvobodili tudi vsega strahu.
👉 Istočasno se boste znebili vse teže, težav in reakcij, ki jih morda imate v povezavi z entitetami in se odražajo na vašem telesu, psihičnem stanju ali življenju.
👉 S tem, ko boste pridobili večje zavedanje o duhovnem svetu, boste dobili tudi več lahkotnosti in jasnosti o svojem celotnem življenju.
Vabljeni na začetni seminar Pogovarjate se z entitetami, ki vam bo spremenil življenje!
PREDOPOJI:
Access Bars® delavnica
HOST:
Nadja Ogrinc
T: 00386 41 242 909
E: info@nadjaogrinc.com
TIME:
04.02.2022 in the evening: 18:00-20:00
05.02. + 06.02.2022 all day: 09:30-17:30h
PRICE: International pricing
********************************************************************
ENGLISH
I'm sorry, what!? Is it about ghosts?
Yes, I am talking about entities = spirits, beings, beings without bodies, the spirit world and so much more!
👻 What if you acknowledge that entities are all around us and that the most natural thing is to perceive them, to clarify them, to communicate with them and, YES, even to cooperate with them?
👻 Do you desire to learn how to handle and work with all the entities and energies you are aware of or pretend not to be aware of?
👻 What if your awareness of entities is a strength and a gift?
👻 Do you desire to overcome all the fears and resistances related to entities?
👉 Join the Talk-to-the-Entities Beginning Class, where you will learn to discover your own perception, awareness and consciousness.
👉 Be there to get a completely new perspective on the way in which you may have seen the spirit world and worked with it up to now.
👉 With the tools (meditations, clearings, exercises, processes, etc.) that you receive in this class, you will gain even more clarity about the magic and ease that the spirit world truly is.
👉 At the same time you will get rid of all difficulties and reactions you may have about your entity perception.
👉 Gaining a greater awareness of the spirit world will also give you more ease and clarity in your entire life.
You are invited to Talk to the Entities- The Beginning class, which will change your life!
PREDOPOJI:
Access Bars® class
HOST:
Nadja Ogrinc
T: 00386 41 242 909
E: info@nadjaogrinc.com
TIME:
04.02.2022 in the evening: 18:00-20:00
05.02. + 06.02.2022 all day: 09:30-17:30h